Anchovies
Svensk ansjovis
– Swedish anchovy style sprat fillets
Swedish word: ansjovis (inlagd och kryddad skarpsill). English translation: tinned sprats cured in brine.
Swedish ansjovis is not the same fish as the anchovy from the Mediterranean countries and elsewhere. Ansjovis is really skarpsill, the Swedish word for sprats.
These sprats are normally cured in "secret" sauces and brines, and sold as fillets in tins. You can also get whole sprats in glass jars.
Scandinavian ansjovis, the anchovy style sprat fillets, are used in Jansson's Temptation and other Scandinavian dishes.
The Mediterranean anchovies are cured much differently. In Sweden, the rest of Scandinavia as well as in Germany they are called sardeller (pl.).
Sardeller are quite spicy and salty, and often used along with capers and olives on certain kinds of Mediterranean pizza, in salads, and other southern European specialties.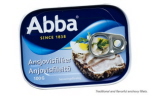 Code:
16103
Price:
$5.19

Code:
16106
Price:
$11.95