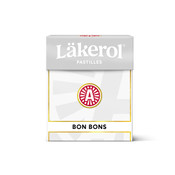 Lakerol (Läkerol) Box - Peppermint Bon-Bons
Code: 1210
Quantity in Basket:
None
Price:
$2.39
Swedish Peppermint Bon-Bons Lakerol (Läkerol)
In the White Box - Swedish Läkerol Boxes are .8 oz. each. Soothing Flavorful Läkerol Candy Throat Lozenges. -
Läkerol was founded by Adolf Ahlgren in 1909 and because of their founder, every candy is stamped with the imprint of the letter "A". The name "Läkerol" comes from the Swedish word "läka", which means "heal". In the 1980s Björn Borg did a series of advertisements for Läkerol.
Ingredients:
Sugar, glucose syrup, natural flavorings (eucalyptus, peppermint, menthol), palm and coconut oil, glazing agent (carnuba wax).
#f7ffff
Related Item(s)