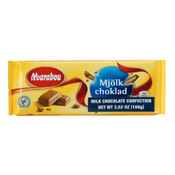 Marabou Milk Chocolate Bar - 3.5 oz -
Code: 1226
Quantity in Basket:
None
Price:
$5.49
Marabou Milk Chocolate Bar
Marabou Milk Chocolate Bar is 3.5 ounce chocolate bar from the famous Swedish Marabou Chocolates. -

The vending machines in the train stations in Stockholm are filled with chocolates just like these, Marabou brand. Rich and deep milk chocolate, full of lushous flavor and intrinsic taste that clears your senses and delivers you to a land filled with trees and mountains and lakes, a land that your ancestors might have came from... Sweden.
#f7ffff