Lars' Own Swedish Meatballs - Frozen - 20 oz.
Code: 16104M
Quantity in Basket:
None
Price:
$9.95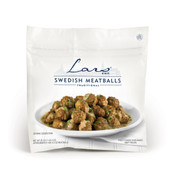 Lars' Own Swedish Meatballs
This is a 20 ounce bag of frozen Swedish meatballs made in Lars' own Swedish-American kitchen according to the Swedish recipe.
This item is perishable and may require additional shipping charges.
Because of temperature variations throughout the USA, we may elect not to ship a food order over a weekend to guarantee its arrival in perfect condition. We make every effort to package and ship perishable items safely. We are not responsible for any damages due to events beyond our control. Perishable food orders are shipped on Mondays & Tuesdays. Cold packaging is available for an extra charge of $11.95. Perishable orders will also incur additional shipping charges.. We cannot guarantee MONDAY deliveries on any orders. We are sorry for any inconvenience.
Our supplies of perishable items are limited during summer months. For more information regarding shipment of perishable items, please email us.
#f7ffff