Gothenburg Sausage - Swedish Style - 2 lb roll
Code: 1674
Quantity in Basket:
None
Price:
$26.95
Swedish style Gothenburg sausage - 2 lb. package -
Beef, pork, and spices are semi-dried and smoked with real hardwood to produce an enduring original Busch product. A classic old world sausage.
An approx. 2lb piece in an artificial casing.
No MSG - Real Hardwood Smoke - Gluten Free
Ingredients: Beef & Pork, Salt, Sugar, Spices, Ascorbic Acid (Vitamin C), Lactic Acid Starter Culture, Sodium Nitrite.
Gothenburg Sausage is a 2 pound sausage. Gothenburg Sausage is a beautiful and savory treat!
Gothenburg Sausage has No MSG
Gothenburg Sausage has No Trans fat
Gothernburg Sausage is Gluten Free
Because of temperature variations throughout the USA, we may elect not to ship a food order such as the Gothenburg Sausage over a weekend to guarantee its arrival in perfect condition. We make every effort to package and ship perishable items such as the Gothenburg Sausage safely. We are not responsible for any damages due to events beyond our control. Perishable food orders such as the Gothenburg Sausage are shipped on Mondays & Tuesdays. Cold packaging is available for an extra charge of $11.95. Perishable orders will also incur additional shipping charges.. We cannot guarantee MONDAY deliveries on any orders. We are sorry for any inconvenience.
Our supplies of perishable items are limited during summer months. For more information regarding shipment of perishable items, please email us.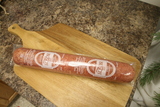 #f7ffff