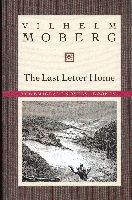 Moberg's Last Letter Home
Code: 2418
Quantity in Basket:
None
Price:
$18.95
Short History of Moberg's Early life
(source: http://en.wikipedia.org/wiki/Vilhelm_Moberg)
Moberg was born in Småland, in southern Sweden of peasant and soldier stock. He had six siblings, though only three survived into adulthood.
Moberg underwent only limited schooling from 1906 until 1912. As a child he was an avid reader, however, and was first published at the age of 13. Moberg became a member of a young Social Democrats club in Algutsboda in 1913.
During World War I he returned to his studies at the Folk Academy in Grimslöv, and later at a private school in Katrineholm. He worked as a farm and forest laborer, and later at glassblowing before and between his various studies. In 1916 he came close to emigrating to the United States, after his uncle and aunt had done so, but ultimately decided to remain in Sweden with his parents. Moberg became infected with the Spanish Flu in 1918, and was sick for a half year.
With a working class background, Moberg started out as a newspaper editor (in 1919). His first novel, Raskens, appeared in 1927. In his works, he often expressed a republican (anti-royalist) point of view, much due to the facts that surfaced in the Kejne affair and Haijby affair, in which Moberg took an active part. Moberg's most famous work is a series of four novels (1949-1959) that describe one Swedish family's migration from Småland to Minnesota in the mid 19th century, a destiny shared by almost one million people, including several of the author's relatives. These novels have been translated into English: The Emigrants (1951), Unto a Good Land (1954), The Settlers (1961), The Last Letter Home (1961). His literary depiction of the Swedish-American immigrant experience is comparable to O.E. Rolvaag's work depicting the experience of Norwegian-American immigrants. Some of his other work has also been translated into English, and he is well-recognized in the English-speaking world among those interested in Scandinavian culture and history.
In his autobiographical novel Soldier with Broken Rifle (Soldat med brutet gevär), he speaks to the importance of giving voice to the downtrodden, illiterate classes of his forebears. This viewpoint also informed his History of the Swedish People, I-II (Min svenska historia, berättad för folket, I-II), published in 1970-71 in both Swedish and English. The history was meant to have more volumes, but he never finished it. The musical Kristina från Duvemåla by ex-ABBA members Björn Ulvaeus and Benny Andersson is based on Moberg's The Emigrants.
Moberg lived the last years of his life with depression, and eventually he committed suicide by drowning himself in a lake outside his house August 8, 1973. He left a note saying: The time is twenty past seven; I go to search in the lake for eternal sleep. Moberg is buried in Norra begravningsplatsen in Stockholm. ----------- Moberg's Last Letter Home.
Moberg's Last Letter Home
"'The Last Letter Home' portrays the family of Karl Oskar and Kristina Nilsson, prospering in the midst of Minnesota's growing Swedish community of the mid- to l ate-nineteenth century. Years of toil have brought them a comfortable house and a thriving farm. Now they face a new terrible challenge as Minnesota struggles through two bloody conflicts- the Civil War and the Dakota War. The famuily remains steadfastly together through wartime turmoil and fears for the safety of loved ones. Kristina finally takes the very first apple ripened on the tree grown from seed sent from her old home in Sweden. Like her family, the tree grown from seed sent form her old home in Sweden. Like her family, the tree has taken root and trived in the new land. Make sure and see the preceding volumes of Moberg's epic tale available from Borealis Books. "Morberg's Last Letter Home" is 230 pgs. "Morbergs Last Letter Home" is a Softcover.