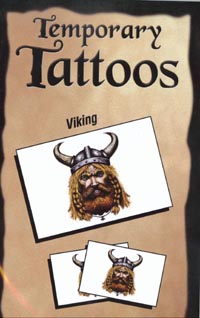 Viking Temporary Tattoos
Code: 9457
Quantity in Basket:
None
Price:
$2.95
Viking Temporary Tattoos
This Viking Temporary Tattoo set contains one (1) large and two (2) small temporary tattoos of a typical Scandinavian viking. These Viking Temporary Tattoos are non-toxic transfers and apply in seconds simply using a wet cloth and can be easily removed.
A Viking Tattoo is a great way for children of all ages to show that Viking pride!
By Innovative Ideas, Inc.
#f7ffff